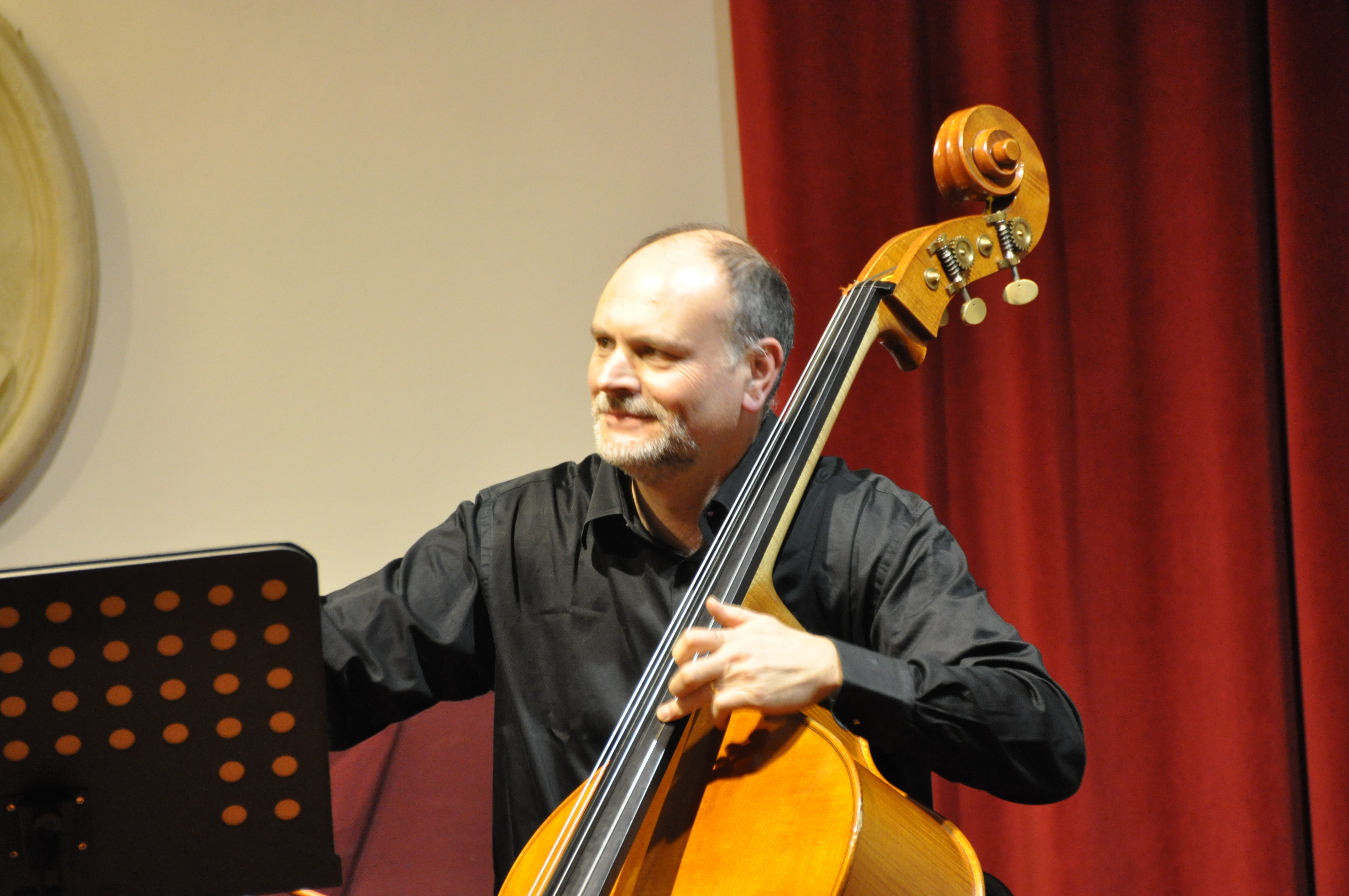 Thierry Barbé is principal double bass of the Opéra national de Paris orchestra and, since 1999, professor of double bass at the National Superior Conservatory of Music of Paris (CNSMDP). He has taught the double bass since 1982, notably at the CRR (National Regional Conservatory) in Saint-Maur, east suburbs of Paris where he still teaches now.
Born in Metz, a town located in the Lorraine region of Eastern France, in the heart of Europe, Barbé studied piano and double bass while simultaneously pursuing a degree in science, before devoting himself exclusively to music at the CNSMDP, where he earned degrees in music theory and analysis, music history, harmony, counterpoint, and a "Premier Prix" in double bass. After entering the orchestra of the Paris Opera in 1983 (where he currently is principal bassist), he continued studying electro-acoustic music and conducting. Barbé's passion is to play recitals with piano; he has been teaching master classes in Italy, Greece, Brazil, Arizona, Colorado, Texas, Georgia, New-York Juilliard school (USA), Germany, Austria, Norway, United Kingdom, Portugal, Spain, Taiwan, China, Denmark, Poland, Russia, Czech Republic, Slovakia and France.
Thierry Barbé appreciates all styles of music, from Bach to Xenakis, world music and jazz. He also frequently performs his own compositions. His first compact disc, Nomade, was released in 1998); many video recordings of his performances can be found on his https://www.youtube.com/user/tbarbecnsmdp.
Barbé has experimented with numerous international technical approaches to the double bass, which he aims to reconcile together. He performs double bass music and transcriptions sensitively, with the so-called expressive "French touch."
Since 2001, Barbé has succeeded Pierre Hellouin as president of the French Bass Society (Association des Bassistes et Contrebassistes de France, ABCDF), and is among the administrators of its website www.contrebasse.com.
Always passionate about stimulating the activity of the double bass community in the world, he organized the bass convention "Bass'2008" in the Paris Conservatory in october 2008. He also once was a board member of the International Society of Bassists (ISB).